Need A Calendar?

• Pocket (Purse) Calendar
• Flyer / 1 Sheet Calendar
• Jewel Case Calendar
Go to calendars

Also see:

• Calendar History and Facts
• GDS Yearly Pocket Calendars

2009 Calendar


...

• Stonehenge – An Ancient Timepiece
2008 Calendar


...

• Midnight Sun Info


...

• Midnight Sun Videos

Call GDS for pricing andGarson Design Services Calendars Fairfield CA Solano County to possibly create your next calendar.
---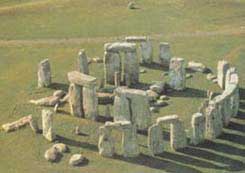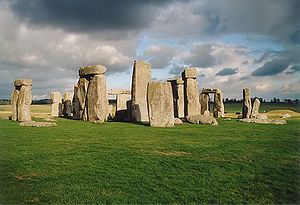 ---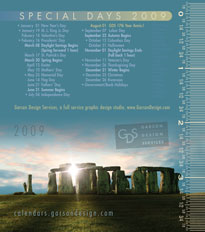 Above is the GDS 2009 calendar, showing Stonehenge, given to clients and friends with Christmas 2008 cards.

Stonehenge was produced by a culture with no written language initially in ca. 3100 BC as a burial grounds.

Around ca. 2600 BC the north eastern entrance was also widened at this time with the result that it precisely matched the direction of the midsummer sunrise and midwinter sunset of the period. Stonehenge is one of the best known astronomical calendars in the world, especially in marking the Summer Solstice.


Summer Solstice
Origin
• Longest day of the year
• Between June 20 and June 23


Winter Solstice

• Shortest day of the year
• Between December 20 and December 23

An outstanding example is the alignment of the Stonehenge Avenue (probably a processional route) and Stonehenge stone circle on the axis of the midsummer sunrise and midwinter sunset, indicating their ceremonial and astronomical character.

The importance of keeping track of the seasons was important to prehistoric peoples in order to keep track of movements of game herds and planting of food crops. In other words, their survival and success may depend on that knowledge.


View Larger Map

Stonehenge It is located in Amesbury, Wiltshire, in Southern England.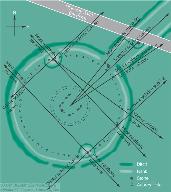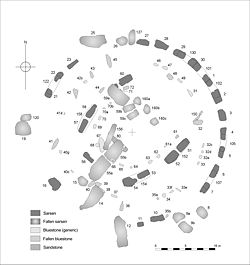 Plan of the central stone structure today. After Johnson 2008

• Wiki Source 1

• http://www.nationalgeographic.com/
xpeditions/activities/07/popup/
stonehenge.html

• http://stonecircles-and-stonehenge.blogspot.com/

• http://news.bbc.co.uk/2/hi/
5098706.stm

• http://whc.unesco.org/en/list/373/

• www.christiaan.com/stonehenge/
index.php

• http://didactica.fisica.uson.mx/
~rpereze/Sh_aa/TrilithonsHorseshoe.html


U