The website requirement was for us to design and build a template. The client would then add pages and fill in their own information. They had someone on staff experienced with Adobe Dreamweaver but not with professional design capabilities – so they called GDS! This is a way one can save website building costs in you have some staff with experience with Adobe Dreamweaver. The other option is Adobe Contribute which is more client friendly wher you don't need to learn coding.

Example of the template provided to the client. sample.htm

Contact Garson Design for more information. Email or 707-428-1743
"I did enjoy working with SeyMoor and found [their] professionalism and candor above reproach. Looking forward to working with [them] again in the near future." -- Gil Daudistel, Information Security Manager,
Cisco Systems

More customer feedback >>




US Dept of Homeland Security & FEMA (Federal Emergency Management Agency)


Georgia





North Carolina

California

Washington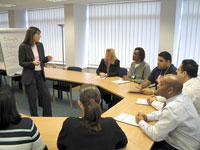 SeyMoor's strength
is our ability to understand and
effectively implement the business drivers, regulations, perceptions,
and technologies that are required to secure business.

Working with Enterprise companies, Fortune 500's, government and health care organizations, manufacturing, retail, financial institutions, and many more, has allowed each of our senior staff to acquire over 20 years of experience in business, loss prevention, risk management, information security and technology.
Find out more about SeyMoor >>
<!__ This is the editable text column __>
---
February Spotlight: Security Mentors
Security Mentors and SeyMoor Technologies, Inc., have created an alliance to provide Nationwide Cyber and Computer Crime Forensics.

Bill Spernow, President and Executive Consultant of Security Mentors, has had a highly visible profile in the Cyber and Computer Crime Forensics for several years. Bill was a featured guest speaker at the 2004 Gartner IT Security Summit and the 2002 National Cyber Crimes Conference. Mr. Spernow has held the role of Former Chief Information Security Officer for the Georgia Student Finance Commission, Research Director with the Information Securities Strategy Group, Principal Security Consultant with Fidelity Investments of Boston, Assistant Director of the Computer Crime Section for the National White Collar Crime Center, Computer Crime Specialist with the SEARCH Group in Sacramento, Sacramento County (California) Sheriff's Department Peace Officer, Consultant to the California Department of Justice, and visiting professor at the University of New Haven where he lectures on information security and forensic issues.

Between the two Forensics Centers, one in Georgia and one in California, these two businesses, Security Mentors and SeyMoor Technologies, Inc., intend to forge a long lasting alliance.
---
Security Lapse
Opinions from David Freeman and Sarah Lynn:

David H. Freeman of Inc. Magazine delves into the topic of "Security Lapse". Sarah A. Lynn, CEO & President of SeyMoor Technologies, agrees with some of David's assessment as David stresses the important messages Information Security specialists evangelize.
David says "The world's faith in the holy trinity of computer security firewalls, intrusion-detection systems, and antivirus software-is misplaced. ... They don't work."
Sarah Lynn agrees, but she adds, "they don't work by themselves, they have to be updated constantly... and they don't stand alone."

David suggests "...thinking about what kind of data you collect, how long you keep it, and what you'll say to employees and customers if
it's lost." This is where your company can REDUCE SECURITY RISK.
Security Lapse article >>