.....
Steve Garson worked at

Austin Knight Advertising

Marketing and Advertising

05/12/1986 - 07/1992
Art Director
San Rafael, July of 1987 office moved to Sausalito, CA


• New York USA HQ
• Los Angeles Branch
• Seattle Branch

Photo web pages
• 1986 • 1987 • 1988 • 1989 • 1990 • 1991 • 1992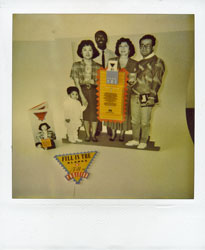 AK LA office. George, 2nd from the left, was my counter part in the LA office. This was a program he put together with LA office AE's. If I remember right that is his wife on the left with their child. George and I were on the bleeding edge of the digital revolution that was hitting creative departments. We traded ideas a lot with a bit of inter-office rivalry thrown in.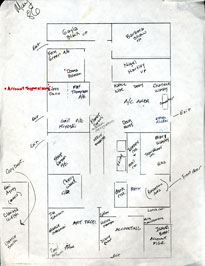 AK San Rafael floor plan. May 1986

Staff - May 1986

• Cyndi Allen - AC

•
Geri Ayers - Media / Marketing

•
Isabel Baker - Accounting Mgr

•
Gayla Black - VP

Gayla opened the AK Seattle office.
•
Diane Chase - Accounting

•
Elanor Curtis - Office Mgr? Supplies

•
Eileen Dunn - AS (Account Superv.)

•
Steve Garson - AD
linkedin.com/in/stevegarson
122408
•
Fern Greer - AE

•
Helen Harrison - Accounting

•
Nigel Hartley - VP (from England HQ)
•
Tim Johnson - PA (Production Artist)

•
Carol McEwen - PM (Production Mgr)
•
Gail Miyoshi - AE

•
Doug Moss - AC
•
Marcie Nakamini - PA (Prod. Artist)
•
Donna Polman - AE

•
Barbara Shaw - VP

•
Valerie Smith - Copywriter

•
Pat Thompson - AE

•
Charlene Wasley - AC

•
Mary Wasley - Tearsheets

•
Clarissa Welsh - Copy Chief

•
Kathie Wise - AC
•
Cherry Wood - CD
•
Denny (Last Name?) - AC

•
Hika (Last Name?) - Tearsheets

•
Ruth (Last Name?) - Receptionist

Back to top

Later Employees


• Roger Boss
– AE
09/1988 – 09/1991
www.linkedin.com/in/rogerboss
122408
• Linda Corwin - PA (Prod. Artist)
• John Disbrow - CD

We are all trying to find the whereabouts of John – John are you out there?

• Tania Ortega - Typesetting Mgr 07/27/1987 -
• Jim Stoch - AE

1987 – 1990 (3 years)
www.linkedin.com/in/jstoch

• Adam Zakin - PA (Prod. Artist)
• Sabine Lenz – Designer/Digital Production Artist and Advisor
www.linkedin.com/in/sabinelenz
www.paperspecs.com
042009
Back to top
---
New York HQ Office

• Tim Gibbons - President

• Joe Rigo – Sr. Vice President Creative Services
1979 — 1994 (15 years)
030908rev030908
www.linkedin.com/pub/6/5b8/236
• Michael Albert – VP, Branch Manager, National Sales Director

1988 — 1991
Also at the AK LA branch
• More on Miichael Albert...
www.linkedin.com/in/
michaelalbertinla
042009
Back to top
---
Los Angeles Office
• Barbara Storm

VP/Branch Manager
1985 – 1990?
• Now with the Strategic Recruiting Team at Intel
www.linkedin.com/pub/0/840/724

042109
• George Evans

Art Director
?? - ??

---
Seattle Office

1601 5th, Seattle, WA 98101
1-800-289-2523
206-233-9840

Gayla Black went up to Seattle to open this AK branch. She moved to Issaquah, WA just west of Seattle in a beautiful wooded area.

Back to top
.....

• Back to main work page

• 04/06/86 See recruitment ad
• 04/??/86 Interview
• 04/??/86 Hired
• 04/25/86 Resign from BSA
• 05/12/86 Begin AK
• 05/??/86 Cherry sick


• 07/87 Office moved to Sausalito




• 07/27/87 Hire Tania Ortega


• 07/??/92 Leave AK
• 04/1997 AK aquired by TMP Worldwide (Monster.com)

---
AK Now
TMP Worldwide, (TMP) (Owner of Monster.com Link 1 2) acquired Austin Knight Advertising in April 1997
"They ran briefly as separate companies and then TMP absorbed the staff and accounts." Joe Rigo
• HQ in NY
• Nearest Office:
San Francisco Area 799 Market Street 8th Floor San Francisco CA 94103 415-820-7800 • 051207
---
My AK Story
04/06/1986
See AK recruitment ad.

The ad that I saw in the Sunday 04/06/1986 SF Chronicle that got me the AK job as Art Director.
Note: Company was originally called (Joanne) Sobel Advertising and then Sobel Knight Advertising when I came on board.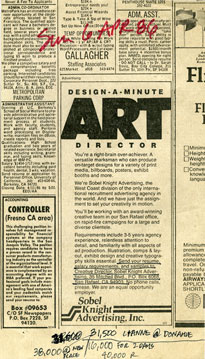 04/??/86
Interview at AK

... with Cherry Wood who eventually hired me. I remember that it was way up in the north end of San Rafael near Lucas Valley Rd. on the east side of the freeway in some low non-discript office buildings. The office was was like someones dumpy living room. Some cute blonde was asleep on a couch in the central AC room. Cherry had an office toward the back. When I came in she rifled through a stack of papers to find my resume - it was a mess. From what she showed me she was doing was very creative work. I briefly met the art department staff. I was excited and wanted to get on-board!



• 04/??/86 Hired




04/25/1986
Resigned from BSA.

Trained Fernando Paez into my position at BSA. I told BSA staff I was going to work with a friend, Susan Thompson in her San Francisco graphic design studio. A bit devious but gave me an opportunity to train up Fernando properly without leaving them in the lerch. Also was able to leave them on friendly terms while going to a competitor.
05/12/86
Start work at AK

About a month into work the lady that hired me, Cherry Wood, comes down sick with Epstein-Barr Virus and knocks her out. From then on she mostly does occasional freelance work from home. I came to AK to work under a pro. a mentor – I had been leading art departments myself since my Hodes days and really missed the additional experience working under a mentor so I missed that Cherry was suddenly out and I was back in charge. Nigel hires John Disbrow from NYC. John wasn't really a management type guy or always the best organized but he had raw artistic talent and heavy agency experience –he was a pro. So I did end up learning a lot from John - his concept and layout skills were at times, simply amazing. And he was always ready with a good joke.


The cat is out of the bag

About a month or two later, after starting at AK... AK Account Supervisor, Eileen Dunn, met Fernando at a San Jose Mercury News event. She thought he looked peculiar - not dressed like the other "suits". She mentioned that Steve Garson was working for them. A surprised Fernando got word back to BSA. Needless to say I got a disappointed call from BSA AE Deborah Rowen. She has always been might favorite sales person/ae of all time. I definitely missed her incredible energy - she was a blast to work with - we fed off each other and grew together in our careers. Deborah, if you're out there somewhere I hope you are doing well!
• 07/27/1987 Hire Tania Ortega to Austin Knight
Tania was originally from Puerto Rico. She was short, slightly on the heavier side, beautiful and friendly but she could kick in her latin temper whenever she needed. She became the "law" back in the production dept. and noone messed with her. She was a great asset to myself and the company.
• 08/02/1987
Office was moved from San Rafael to Sausalito (Mill Valley)
100 Shoreline Highway, Bldg B, Mill Valley, CA 94941 415-331-5600
We were now in much nicer, bigger offices and closer to our Silicon Valley clients. Also my commute was now only 10 minutes away from SF : )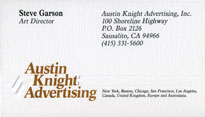 Our new cards with our new address – it says Sausalito but we were actually located in Mill Valley. That's because the city name of Sausalito had "cachet" to the inetnational community.


Back to top


AK Links:
• Austin Knight on Facebook 101308
• Austin Knight on Classmates 101308
• On the Wayback Machine 101308

"VIPs" in the World of AK

Michael Albert
I came on board just before Joe (Rigo) in August, 1979. Right now it feels like it was 1879. I was employee #3. Tim (Gibbons) was straight from South Africa. Sheila was straight from a temporary employment agency. No computers then. We did our work on IBM Selectrics, if we were lucky. I think there were fax machines, but if so, they were messy to work with and made noise worse than Ross Perot's voice. Oh, we didn't have any clients either. The good old days.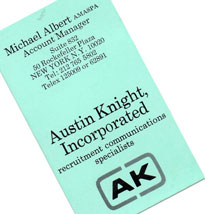 MA 041215
Just came across my very first Austin Knight business card, circa 1979.

I stayed with the firm until 1988 & was then with Davis & Durand & after they folded, it was off to BSA (the absolute worst job of my life) and completed my tour in the recruitment advertising business with JWT in 1993. 10/13/08

• 07/1992 Goodbye AK...
• The 90 mile / 2 hour commute every day was getting old. To stay awake on the long Highway 37 I would speed in my little 240Z which meant extra income for our CHIPS.
• I pretty much had done everything one could do or learn at AK. The fun collateral work was drying up and we were going into one of our industry cyclical downturns.
• Because of 50 - 60 hour work weeks an extra 10 hours of weekly commute time... I really didn't know my new home of Fairfield. I wanted to work in live in the same place and get to know my community.
• Also because of the long hours - I was sick from stress, I knew I was sick but I never knew how bad it was until about 2 months after leaving I realized the difference of feeling be well!
The stress was affecting my health, compromising my integrity in decisions, and time for a life change.
• Why didn't I leave earlier? I was comfortable - pay was good, liked the people I worked with - I was a company man - also starting up my own business was going to be a bit scary!

Back to top


U